Hi I am Raed one of the oldest followers of Her lame Blog!
First of all, Shriti reminds me of Lilo.
Why you say? Well it's mostly her childish attitude and that potato nose of hers! It's quiet funny and it took forever for me to find that she resembles Lilo.The more pictures and blogs you read,the more you'll see the resemblance..
We became friends after she randomly followed me LOOONG ago
where we became friends and she put up with my Dyslexic writing style and spelling errors while I read her interesting blogs ! And then then she added me on fb which I found quiet creepy (Just kidding xD) and we started chatting stuff.It was funny and the chats had never ended.Then somehow we now ended up on twitter (Follow me UGLYRAED ) where I have to put up with her tweets.Twitter is a blast when She's around!So if you're not following her,then go ahead!!!
A month ago,I asked her to give me the 400th guest post slot and HOORAY I got it!So I took the opportunity to share more about this crazy maniac!
But you all have to know one vital thing,mess with her and she'll make your life a living hell...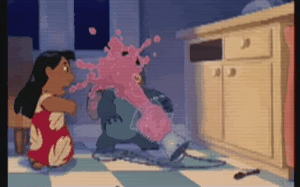 Yes she has super powers 0_0
Even though I barely read her depressing blogs now,you must know that she's one happy penguin! She eats chocolate,acts random and gets a head ache the following day.And when she gets a headache,you don't want to her on her wrong side
Don't tell me I didn't warn you!!!
Be on her good side and you'll have a super cool online friend an awesome time!
I never made a guest post before so I hope that you all had a nice time reading it! Stay Awesome!
Raed :)
Yes my name is Ra'ed! Call me Read and I'll chop your face after I cast one of the unforgivable curse on you!